AT89C51-based 8051 in-circuit-debugger
by Chin-Shiuh Shieh on
---
ATMEL AT89C51 is an 8051 variant with 4KB on-chip flash ROM.
Schematic diagram(pdf)(ps) of a AT89C51-based 8051 in-circuit-debugger, designed by Chin-Shiuh Shieh.
Above design is intended to work with NoICE for 8051 V5.0.
"MON8051-AT89C51.HEX" is revised by Chin-Shiuh Shieh according to:
Monitor Code Space: 0000h-0FFFh
User Code Space: 1000h-7F7Fh
User Data Space: 0000h-7F7Fh (Overlap with User Code Space)
Monitor Data Space: 7F80h-7FFFh
Baud Rate: 9600bps
Hand-coded UART on INT1 and T1.
RD, WR, P0, and P2 are used to access external RAM.
Photograph of a finished board: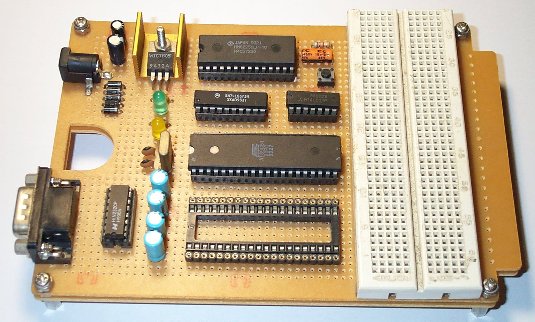 ---